ISTANBUL — At least six people were killed and dozens injured in an explosion on a popular pedestrian street in Istanbul, Turkish President Recep Tayyip Erdogan said on Sunday.
"The explosion may have been an act of terror. A woman is believed to be involved," Erdogan said in televised remarks, without giving details on how he came to that conclusion.
Vice President Fayat Oktay later updated the number of injured to 81, two of them critically, and said it appeared to be a terrorist attack.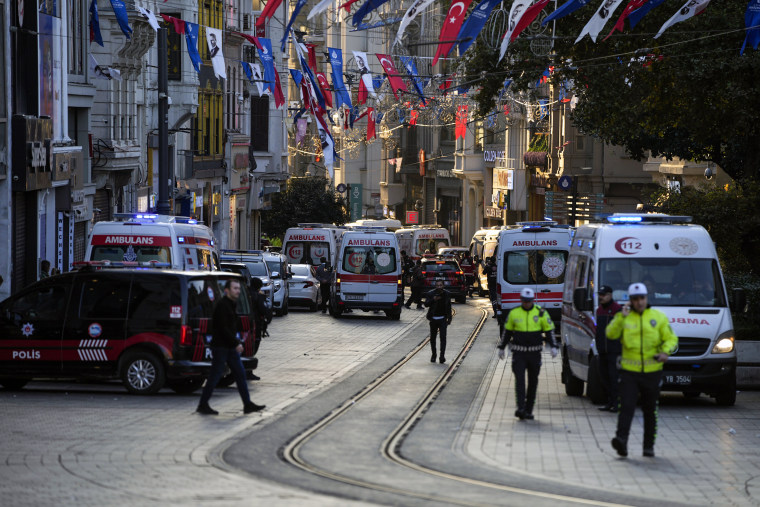 Erdogan called the blast a "treacherous attack" and said the perpetrators would be punished. He did not say who was behind the attack, but said it had a "smell of terror" without giving details, adding that it was not certain. Erdogan said four people died at the scene and two died in hospital. He added that based on information he received from the governor of Istanbul. Ali Yerlikaya, at least 53 people were injured.
Shortly after the blast, Yelikaya tweeted that at 4:20 p.m. local time (8:20 a.m. ET), it "occured on Taksim Istiklal Street," a crowded line of shops and restaurants. avenue.
"Our wounded are being treated," he said. "We hope God has mercy on those who lost their lives and a speedy recovery for the wounded."
The Turkish Red Crescent said the blood was being transferred to a nearby hospital.
Social media users said stores were closed and the boulevard was closed. The area, located in the Beyoglu district of Turkey's largest city, is packed as usual with shoppers, tourists and families on weekends.
Turkey's media regulator, the Supreme Council for Radio and Television, imposed a broadcast ban on coverage of the blast about an hour after the blast – a move aimed at preventing broadcasters from showing video of the moment of the blast or its aftermath.
It has imposed similar bans in the past following attacks and accidents.
Many foreign governments offered their condolences, including neighboring Greece, which has strained relations with Greece. Prime Minister Kyriakos Mitsotakis said he was "shocked and saddened by the heinous attack".
Istanbul Mayor Ekrem Imamoglu also tweeted "condolences to those killed in the blast on Istiklal Avenue".
Between 2015 and 2017, Turkey was hit by a series of deadly bombings by the Islamic State group and banned the Kurdish group.
Aziz Akyavas reported from Istanbul and Mithil Aggarwal from Hong Kong.
Associated Press contributed.