ts. Saiful currently serves as Head of IT Asia Pacific for ASCENT Group, a global independent fund manager based in Singapore. He is responsible for consulting, technology, solutions, security and IT project delivery for all ASCENT offices in the Asia Pacific region. He was listed as a Top 200 CIO in the World by the Global CIO Forum in 2020 and 2021 in recognition of his achievements in the industry. He was also named ASEAN Top 75 Chief Information Officer (CIO75) for 2021, and ASEAN Top 50 CIOs for 2019 and 2020 by International Data Group (IDG). An IT professional with an MBA, he has 22 years of experience in IT management, strategic planning, IT security, digital transformation, project management, risk management and business continuity. He holds CISM and CRISC certifications from ISACA, PRINCE2 Project Management, SCRUM Master (Agile Project Management), ITIL Practitioner and Intermediate (v2 & v3), Microsoft's MCSA, IATA's Aviation Cyber ​​Security and IBM's Lotus Notes Specialist. He is also active as a speaker, panelist or moderator at local and cross border IT events and summits such as India, Singapore, Philippines, Indonesia, Kingdom of Saudi Arabia, Bahrain and United Arab Emirates. This is his way of giving back to the industry by sharing his knowledge and experience. In addition to this, he currently serves as a mentor for technology startup ArmourZero and a regular columnist for the When the Expert Meets the Expert (WeMe) technology blog.
Technology has caused a paradigm shift in the world. Due to this technological revolution, the financial world has also been affected. Do you think this is the right way forward? Why?
Of course, the financial world should evolve with the rapid advancement of technology. Customers are now demanding more innovation in financial products and greater control over their finances through multi-channel solutions. People are moving away from the traditional over-the-counter banking model and have the autonomy to conduct all required transactions via the internet and mobile devices.
Furthermore, we should see an increase in demand for the financial industry and different customer behaviors as a new generation of users become proficient in gadgets and technology.
This is the way forward, and all banking institutions should follow if they want to remain relevant. With the advent of digital banks, it will directly threaten their very existence if they still choose to remain stagnant in the traditional banking business model.
With 21 years of IT experience, how has the world of fintech changed in recent years?
The world of fintech has changed dramatically in recent years. In Malaysia, changes have accelerated in recent years, supported by central bank regulations, government initiatives, and the issuance of digital banking licenses in the country.
Today, people are used to payment apps, mobile banking, peer-to-peer (P2P) lending apps, investing apps and even crypto apps. With this emerging technology, shopping has never been easier, and you can even order food or hail a car to move from one place to another. Who would have thought that just by tilting your head left and right to verify your profile, you could easily open an account?
Guess what, no one even writes checks anymore. Why go through all this hassle when you can easily transfer money, instant transfers and same-day payment processing via QR codes? The development of fintech has made all this possible.
As head of IT at the Ascent Group, there are certainly no dull moments. Can you share some interesting moments from your career?
indeed. Since our company ASCENT Group is 100% running on AZURE Cloud, we have gone the extra mile through a regional business continuity process with instant and virtually zero downtime. In the event of any disaster or anything happening to our business in the Azure Singapore region, all of our employees can immediately transfer all their access rights to the corporate BCP website hosted in the Azure Japan region. This is to ensure a seamless business transition and our commitment to continue serving our key clients and clients.
On top of that, we recently migrated our subscription-based international fund accounting system and hosted it in our own Azure Cloud. The purpose of this is to better control and protect all financial data.
You have received many honors and awards for your contributions to the field. Which award makes you most proud of your efforts?
My most memorable award is the Best CIO 50 (CIO50) award I received in 2019 from the International Data Group (IDG, now known as Foundry). This is IDG's first CIO50 award for Southeast Asia and I am honored to be listed as one of the pioneer recipients of this award. It is also a nod to all the IT innovations I have implemented during my tenure with the Malaysian Aviation Commission, the economic regulator of the Malaysian aviation industry.
The tech world is expanding every day, and it's always "auto-updated". How do you keep up with the latest advancements and innovations?
Continuous learning is a must. I always encourage my employees to attend workshops about these new technologies, and I also welcome suppliers and technology companies to contact us and share their latest products or new technologies.
We need to keep up with the latest developments in innovation and technology, and being part of the international IT community like the Global CIO Forum and Cyber​​EdBoard gives me access to this valuable information.
You can also learn from the experience of others going down this path, so you can avoid similar problems in your project implementation. This international-level collaboration and intelligence sharing will better help you make informed decisions or determine where to invest in new technologies.
At Ascent, as an IT executive, how do you create custom solutions for clients?
At ASCENT, we always engage business users from the start and partner with IT to deliver the best solution for business, customer or operational efficiency. We also have very dynamic business leaders who are truly committed to achieving their goals and are consistent. To date, this strong collaboration has been fruitful, with no instances of shadow IT in our environment.
How and how your business operates varies from one company to another. To create bespoke solutions for clients, input from the business is essential, as they are the ones managing the client on the front line and they will also be the ones who will execute the finished product when it is ready. One of the main outcomes of this strategic brainstorm is our eKYC system (Know Your Customer). It's great that management decided to commercialize this eKYC as part of an off-the-shelf package we offer to our customers.
When it comes to financing, how do you determine the right strategy for each client?
I have this "BRAG rule of thumb" when it comes to project priority financing. I'm sure every company is in the pipeline. Therefore, choosing the best one will help you get the most out of your investment.
B: Bring value to the company and stakeholders. Choose the items that impact your bottom line, increase user experience (UX), and be the most critical to your business' survival.
R: Appropriate technology. Don't overspend unnecessarily, and choose the right technology based on your budget, company size, and operational needs. When it comes to technology, there is no one-size-fits-all solution.
A: Align with business goals. IT should be leveraged to increase the profitability of the business or to improve operational efficiency. IT should no longer just be set up as a cost center.
G: A good balance between people, process, technology and compliance. Whenever we introduce a new system, we need to prepare our users because without the combination of all key processes, your new project could end up being a white elephant project.
Who has inspired you the most in your career and why?
Throughout my career, I have looked up and thanked my late boss, Mr. Izzanee Idris. In my eyes, he was a mentor, a friend, and a great boss. He's the guy who trained me to be an IT executive. His values, his good character, his integrity and his crisis management skills have had a big impact on me and have helped me become who I am today.
Cybersecurity is a major issue in our day and age. What are the pitfalls in the tech world? How do we protect our information?
Cybersecurity is truly the key factor that keeps CIOs and CISOs up at night. Threats are constantly evolving, and threat actors are becoming more and more creative in finding ways to infiltrate your organization.
In my personal opinion, using cybersecurity technology is still very expensive, and being able to get this protection on a limited budget would be a disadvantage for a startup or small to medium sized company.
We need a comprehensive and affordable cybersecurity solution, and the emergence of Security-as-a-Service (SECaaS) solutions may provide an alternative for this situation.
To protect our information, you need to go back to basics and strengthen your internal processes and systems.
Know what to protect: Take inventory of all your information assets and categorize their importance and criticality. Then assign the strictest and strongest protection to the most critical data.

Know who has access to your data: Clean up the list of users in your organization (housekeeping) and make sure only the right users are assigned to the right folders or data.

Know where your data is being accessed: Moving to a zero-trust setup, the local DMZ is no longer trusted and secure. Always be vigilant about where your traffic is coming from.

Focus on multi-factor authentication: on a tight budget? Focus on what you can control to add complexity to security.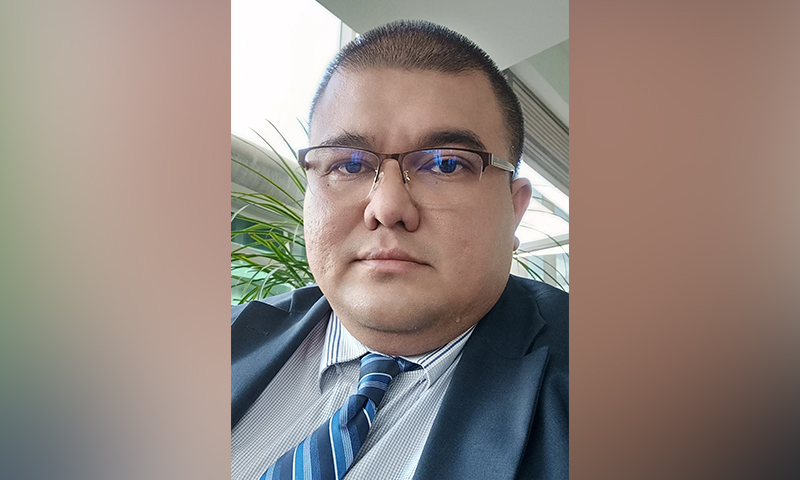 In your opinion, what is the most useful innovation in IT? Do you think this is the future of IT?
I have always supported the Internet of Things (IoT), and I believe that IoT will still play a role as the highly sought-after technology moves forward. The applications of IoT are limitless.All this data that IoT devices are collecting and transmitting, if used with analytics, can be a powerful source of information for stock forecasting, market topology and distribution, customer behavior analysis, new product and market segmentation targeting, just-in-time production, etc.
In aviation: It improves flight safety by integrating sensors into every part of the aircraft. If any equipment malfunctions or the flight has problems mid-air, ground crews will be alerted and prepared with the remediation team at the next airport where the plane lands.
In a smart home: Now you can better manage your home while you're away. Turn off the fan or TV, brew coffee ahead of time before you get home, activate CCTV or remote alarms for safety, and even replenish your fridge stock by ordering online when it's out of stock.
In a smart city: If you put a simple sensor on anything, it becomes smart, connects to the network, and operates in the best interest of the city's population. Traffic management, water distribution, waste management, urban safety, and environmental monitoring are some of the ways we can leverage the use of IoT.
In smart retail: This is what they have been implementing in some parts of China, where customers can enter the supermarket to pick up groceries and leave without queuing at the checkout.
In smart farming: Technology has increased the efficiency of modern farming, where crops are monitored by drones, humidity sensors and growth analyzers. It will also be more cost effective, especially if you are running a plantation of hundreds of acres with limited manpower.
In Smart Grid: Smart grid is the management of energy consumption and similar resources in an efficient and traceable manner.
Content Disclaimer
related articles