San Jose, California – San Jose police said they arrested three men on charges of a string of business thefts between March and October.
Marcelino Bejarano, 25, Santiago Cabuag, 25, and Ricky Bejarano, 23, allegedly broke into businesses overnight and stole merchandise, cash registers and ATMs. They fled for months, evading the police.
The suspects would use blunt objects and crowbars to break front doors or windows, or crash cars with stolen vehicles, officials said.
Nearly 40 percent of the alleged crimes occurred in the Willow Glen neighborhood along Lincoln Avenue, authorities said. corridor.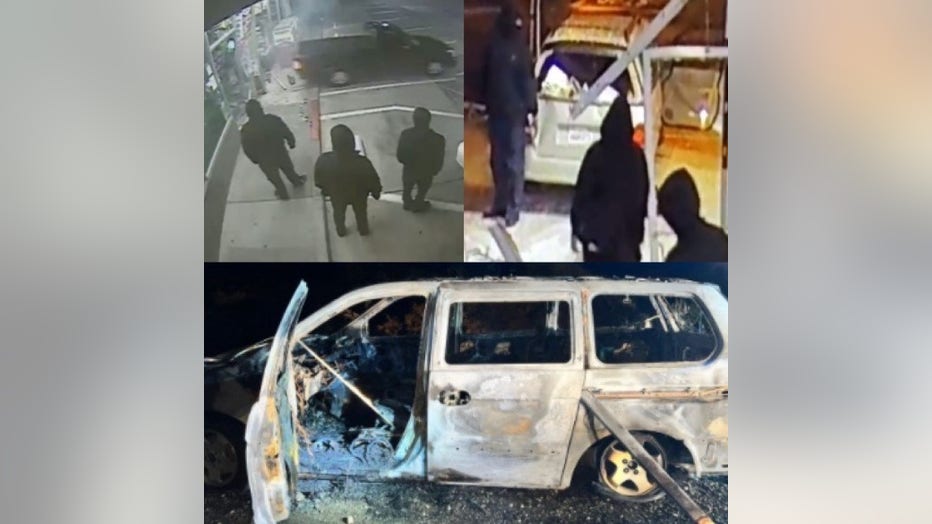 The three suspects used a white Odyssey minivan during the theft. Photo via San Jose Police Department.
The three suspects are understood to have used a white Honda Odyssey minivan during the crime until they got out and the vehicle was subsequently set on fire, officials said. They allegedly started working on a new Odyssey minivan after burning down the first Odyssey minivan.
The police department dubbed the trio the "Odyssey Theft Squad."
One of the targets the group allegedly targeted was the Goosetown Lounge.
"They stole our ATM. They stole some money out of a drawer. Then they broke into Puerto Azul (a nearby restaurant) and stole their cash register," said Lynne Rovia, owner of Goosetown Lounge.
Rovia said the suspect waited until 15 minutes after closing time, then entered and exited her break room within three minutes.
"It affects all of us. Especially coming out of COVID and all. We struggled for a couple of years. And then started to get back up and make it happen. It really had an impact," she said.
On November 9, the San Jose Police Department took two of the three suspects into custody. They are in the Santa Clara County Jail on multiple counts of commercial theft.
return: 6 men arrested in San Jose burglary gang linked to robbery
On November 22, they arrested a third suspect and jailed him on the same charge.
Anyone with information about this investigation is urged to contact the San Jose Police Department's Financial Crimes Unit at 408-277-4521.